Junior Tennis Programs for Every Skill Level
Progress at all ages and skills levels at Precision Tennis Academy!
The Precision Tennis Junior Program offers a variety of instructional programming for the beginning player just picking up a racket to the experienced, tournament level player.
Programs for every skill level:
Personalized on court instruction
Have fun, make friends and improve your game
Focus on fundamentals & skill development
QuickStart Academy
Designed for 12 & under Beginner Players
Utilize equipment ideal for your child's size and skill: we are home to the Triad's premier QuickStart facility offering courts and equipment ideal for learning in 8 & under, 10 & under and 12 & under disciplines.
Skill acquisition through games and play: at a young age kids will learn technique and skills through age appropriate games and play designed to help them succeed and learn quickly!


For the love of the game: we believe that if a child LOVES tennis, they will continue to flourish in the game. That's why our QuickStart program is all about fun.
Junior Academy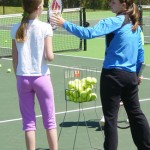 Designed for 13 & up Beginner and Intermediate Players
Consistent stroke technique: Kids learn basic technique and fundamentals in all aspects of the game including serve, forehand, backhand and volleys.
Developing a successful match game plan: Players will be introduced to strategy and court awareness.
Pinpointing and improving weaknesses: Players will go through a process of improving and understanding their strengths and weakness, how to develop those weaknesses, and how to create game plans around their strength.
Excellence Academy
Designed for 13 & up Beginner and Intermediate Players
Stroke Development: Players will continue to fine tune and develop all strokes in the game.
Footwork and Agility Training: Students will be introduced to physical training to improve speed around the court.
Matchplay and Strategy: Players will learn on-court strategy and learn to develop their strategies based on the their strengths and weaknesses and their opponent's strengths and weaknesses.
Tournament Preparation: Players will learn what it means to compete and know how to handle tough situations during matchplay.
Mental Toughness Training: Players reinforce understanding of mental strategies and tendencies under pressure while they prepare for tournament tennis situations.
Try our Starter Package! – $60-$75
One month (one class per week) of the Precision Junior Academy Classes
One 30-minute individual private tennis lesson with a Teaching Professional